Table of Contents:
---
The AI Revolution Uncovered
The financial world is abuzz with talk of artificial intelligence (AI), and for good reason. James Altucher, the visionary behind Altucher's Investment Network, believes that AI is the next frontier for investors.
Altucher believes AI is set to transform many industries, much like the internet did in the 1990s.
"AI is the single biggest technological breakthrough in history," says Altucher, drawing parallels with the Industrial Revolution.
To support this claim, he highlights the words of tech giants.
Sundar Pichai, Google's CEO, asserts that AI is "more profound than electricity or fire." Elon Musk predicts AI will be "vastly smarter" than humans by 2025.
Masayoshi Son, the CEO of SoftBank, envisions AI with an IQ of 10,000, surpassing even the genius of Einstein.
Imagine the possibilities of AI supercomputers that are 100,000 times faster than humans and have IQs in the thousands. Altucher believes AI could find cures for diseases like cancer and revolutionize industries, potentially worth trillions of dollars.
The Power of Tiny AI Stocks
While AI presents immense opportunities, Altucher zeroes in on a particular aspect – tiny AI stocks. These companies may trade for mere cents today but have the potential to become giants tomorrow.
Drawing a parallel to his earlier call on Bitcoin, Altucher explains that those who invested in the right cryptocurrency reaped exceptional gains. Now, he predicts a similar scenario with AI stocks.
Altucher, with his extensive experience in AI technology, has developed a strict 4-point checklist for identifying the most promising AI stocks:
Must Have a "Leading-" or "Bleeding-Edge" Technology
Altucher looks for companies with breakthrough technologies that put them ahead of the competition. These companies are poised to lead the AI revolution.
Must Have Constant Revenue Growth
For Altucher, consistent revenue growth is a key indicator of a company's potential. A trend in motion tends to stay in motion, making these companies more likely to succeed.
Must Be Small and Virtually Unknown
To achieve maximum gains, Altucher advises targeting lesser-known companies before they hit the mainstream. It's akin to investing in Google or Netflix when they were off-the-radar.
Must Have an Urgent Catalyst in the Days or Weeks Ahead
Altucher recognizes the potential for explosive growth in small stocks when important events or announcements occur. Such catalysts can lead to significant price increases.
With these criteria in mind, Altucher has identified three tiny AI stocks that meet his checklist. He calls them "moonshot" opportunities and predicts they could yield remarkable gains.
"I've personally done thousands of hours of research… and I've found 3 tiny AI stocks with the biggest potential to soar starting as soon as November 21."
What Are The Three Tiny AI Stocks In The $100 AI Jackpot?
The $100 AI Jackpot report reveals three tiny AI stocks with significant growth potential. These stocks are the focus of Altucher's meticulous research, offering subscribers a chance to target extraordinary profits over the long run.
We can't spoil the three stocks upfront. However, we'll reveal basic details about each:
James Altucher $100 AI Jackpot Stock #1: Forbes called this company a "quantum leap in AI." James fully analyzes the company and why he believes it's a smart play. James compares the company to a "picks and shovels play."
During the Gold Rush, some people quickly got rich by digging up gold, but many got rich by selling picks and shovels to miners. This company uses state-of-the-art quantum computing technology to create a critical piece of AI infrastructure that other companies need.
The company has already partnered with Amazon, Dell, Microsoft, and Nvidia, and James believes its brightest days still lie ahead.
James Altucher $100 AI Jackpot Stock #2: James Altucher's second recommended stock is expected "to dominate a projected $3.6 trillion market." The second company has created a proprietary technology more powerful than cloud computing and other alternatives.
It's so powerful, it is like having the key for the entire AI boom. According to James, some of the world's largest companies have already signed deals with this company, including Amazon, Apple, Google, and Stripe. James believes this company's share price could soar as AI takes off.
James Altucher $100 AI Jackpot Stock #3: This third company is the smallest of James' three recommended tiny AI stocks.
He describes it as "a true early-stage 'moonshot' opportunity." James also claims it's his #1 AI Jackpot pick for 2023. The company is worth less than $1 billion today but could soar over time as AI grows.
You get immediate access to James' bonus report, The $100 AI Jackpot: How To Target Potentially Huge Profits With 3 Tiny AI Stocks, with all new subscriptions to Altucher's Investment Network. That report features complete details on the names and ticker symbols of all three recommended stocks above.
What Do I Get When I Buy Altucher's Investment Network?
Altucher's Investment Network is not limited to these AI stock picks alone. He covers a wide range of investment opportunities, from tiny stocks set to explode to obscure cryptocurrencies with significant growth potential. Subscribers gain access to Altucher's best insights every month, ensuring they stay ahead of market trends.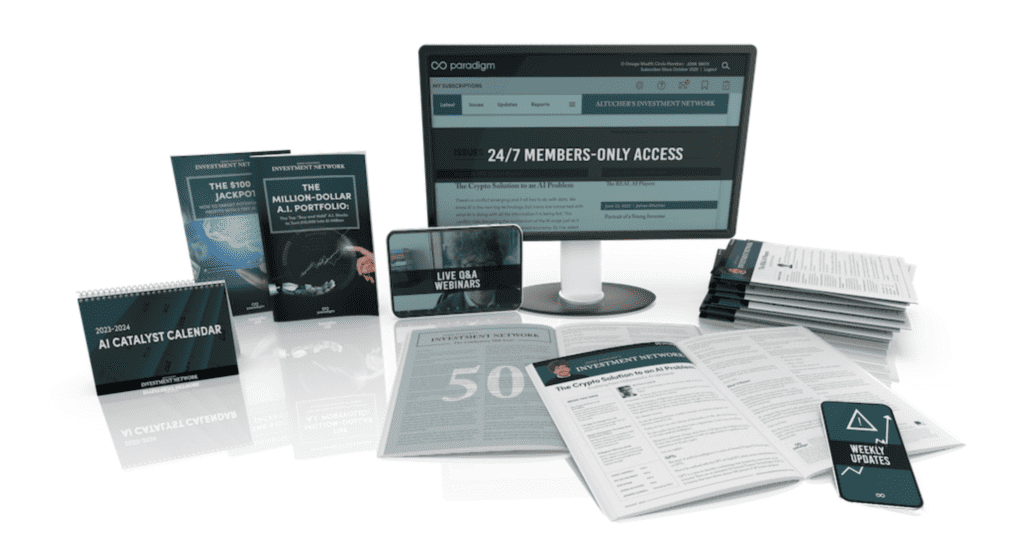 Subscribing to Altucher's Investment Network unlocks an array of valuable bonuses, including:
Bonus #2: The AI Catalyst Calendar, revealing critical events that can impact AI stocks. Timing is crucial in the fast-paced AI industry. Transcript 3 introduces the "AI Catalyst Calendar," a valuable resource for subscribers. It provides insights into upcoming events, earnings announcements, product launches, and other catalysts that could impact AI stocks. This calendar aims to keep subscribers ahead of the curve.
Bonus #3: Exclusive live AI Q&A webinars held quarterly. Altucher's Investment Network goes the extra mile by hosting exclusive live AI Q&A webinars every quarter. Subscribers gain direct access to James Altucher himself, allowing them to ask pressing questions about AI investments. These webinars provide real-time insights into the AI market.
PLUS, weekly updates… exclusive 24/7 access to Altucher's special members-only website… and much, much more!
Meet James Altucher: Your Investment Guide
James Altucher is not just a financial advisor; he's a seasoned expert with an extensive background in AI technology. He has dedicated countless hours to researching investment opportunities and has identified the top AI stocks poised for success.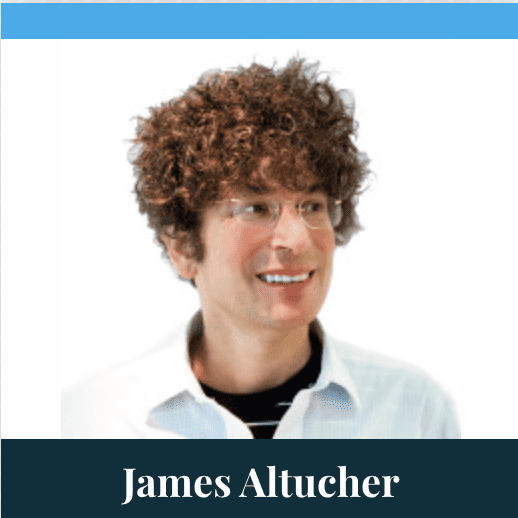 James Altucher, the visionary behind Altucher's Investment Network, has a rich background in finance:
He is a former hedge fund manager and venture capitalist.
Altucher has transitioned to sharing investment insights with everyday investors.
His extensive experience and in-depth AI knowledge make him a trusted source of investment guidance.
With a track record that includes identifying Bitcoin's potential when it traded at just $114, Altucher is a trusted source for investment guidance.
His deep understanding of AI and his ability to predict market trends make him uniquely qualified to guide subscribers to profitable opportunities.
How Much are the Reports and Altucher's Investment Network?
Subscribing to Altucher's Investment Network is surprisingly affordable. For just $49 per year, subscribers gain access to a wealth of information and insights that can potentially yield substantial profits.
Altucher's commitment to providing value to his subscribers is evident in the low cost of membership. This affordable annual fee equates to less than 14 cents per day.
Furthermore, Altucher offers a risk-free trial period of six months. Subscribers can enjoy all the benefits of the network without any financial risk. If they find the service unsatisfactory within the first six months, they can request a full refund.
Subscribers stand to save thousands of dollars by accessing Altucher's Investment Network at this affordable rate and taking advantage of the valuable bonuses and insights it offers.
The affordability of the service, coupled with a risk-free trial period, makes it an attractive proposition for those looking to stay ahead in the ever-evolving world of finance.
Investors, take heed: the AI revolution is underway, and Altucher's Investment Network is your gateway to uncovering hidden profits in this transformative industry. Don't miss out on the chance to secure your financial future.
What Is The Refund Policy for Altucher's Investment Network?
Altucher's Investment Network ensures that subscribers receive top-notch customer service.
In the fast-paced world of finance, timely responses to queries and concerns are crucial.
The network's dedicated support team is available to assist subscribers promptly, helping them navigate the world of investments.
If Altucher's Investment Network doesn't deliver, you don't pay a cent (and you can keep every report AND free bonus you'll receive.)
What Is Paradigm Press?
Paradigm Press is a Baltimore-based financial publishing company offering free and paid subscription services, including financial newsletters, investment guides, and more.
In addition to Altucher's Investment Network, other popular services from Paradigm Press include Crisis Trader, Jim Rickards' Insider Intel, Strategic Intelligence, Real Estate Trend Alert, and The Situation Report. These newsletters are led by financial experts like Jim Rickards, James Altucher, Ray Blanco, and others.
You can contact Paradigm Press and the company's customer service team via the following:
Phone: (844) 731-0984
Mailing Address: 808 St. Paul St, Baltimore, MD 21202
Full Summary
AI (Artificial Intelligence) is rapidly emerging, with its influence likened to the internet boom of the 1990s.
The AI investment landscape presents remarkable opportunities for investors. James Altucher's insights and Altucher's Investment Network offer a comprehensive gateway to AI and other emerging investment sectors.
By subscribing, investors gain access to a wealth of resources, expert guidance, and a community of like-minded individuals. Plus, if you don't like the reports or subscription, you can cancel no questions asked.
Now is the time to seize the AI advantage and embark on a journey of potentially lucrative investments. Don't miss out on this opportunity to stay ahead in the world of finance and technology.
The Profit Sector's Recommendations
The provided information underscores the growing significance of AI investments and other emerging opportunities.
James Altucher's experience and partnership with a top AI analyst enhance the network's credibility.
Considering the affordable subscription price of $49 for a year with a 6-month risk-free period, investors looking to explore AI and related sectors may find value in subscribing.
However, investors should exercise due diligence, conduct research, and consider their investment goals and risk tolerance before committing to the network. Always validate recommendations against independent research and trusted financial advisors.
Our Final Verdict
As AI continues to reshape various industries, investors seeking exposure to this transformative technology may benefit from exploring Altucher's Investment Network. The network offers a wide range of investment insights and resources, including valuable bonuses and reports.
James Altucher's reputation in the financial industry and the partnership with a renowned AI analyst provide additional reasons to consider this opportunity. The affordable subscription price and the risk-free trial period make it accessible to a broader audience.
Nevertheless, prospective subscribers should conduct thorough research and assess their investment objectives before subscribing to ensure it aligns with their financial strategies.
The Profit Sector
---
Glossary
Altucher's Investment Network: An investment advisory service led by James Altucher that provides subscribers with insights into various investment opportunities, including AI, cryptocurrencies, and stock market trends.
AI (Artificial Intelligence): Refers to the simulation of human intelligence in machines, enabling them to perform tasks that typically require human intelligence, such as learning, problem-solving, and decision-making.
Cryptocurrencies: Digital or virtual currencies that use cryptography for security. Examples include Bitcoin (BTC) and Ethereum (ETH).
Stock Market Trends: Patterns or movements in the stock market that indicate the performance of specific industries, sectors, or types of stocks, such as self-driving cars and drone technology stocks.
Speculative Model Portfolio: A portfolio of stocks or investments with high growth potential but also higher risk. The goal is to achieve substantial returns over a specified period.
Buy-and-Hold: An investment strategy where investors purchase assets, such as stocks, with the intention of holding them for an extended period, often years or decades, to benefit from long-term appreciation.
AI Catalyst Calendar: A resource that provides information on upcoming events, announcements, and catalysts in the AI industry that can impact the performance of AI-related stocks.
Kai-Fu Lee: A prominent figure in the AI industry, known for his expertise and contributions to AI technology. He has worked with major tech companies like Microsoft and Google and is involved in venture capital in China.
Frequently Asked Questions
What AI investments are covered in Altucher's Investment Network?
Altucher's Investment Network covers a range of AI investments, including AI stocks and companies with potential for substantial growth.
What is 'The $1 Million AI Portfolio' mentioned in the articles?
The 'The $1 Million AI Portfolio' is a speculative model portfolio of nearly a dozen of the best AI stocks that Altucher's Investment Network recommends owning for the coming years. It aims to turn a $10,000 stake into $1 million over the next few years.
How can subscribers benefit from the AI investments recommended by Altucher's Investment Network?
Subscribers can benefit from AI investments by adding the recommended AI stocks to their portfolio and potentially witnessing significant gains as AI technology continues to advance.
What is the AI Catalyst Calendar, and how does it help investors?
The AI Catalyst Calendar is a resource that shows upcoming catalysts in the AI industry, such as important events, earnings announcements, product launches, and more. It helps investors stay informed and potentially profit from market-moving events.
What is the significance of November 21 mentioned in the articles?
November 21 is highlighted as a potential catalyst for AI investors, indicating that it could be a date with significant AI-related developments that may impact AI stocks.
Pop Quiz
Question 1: What is the primary focus of Altucher's Investment Network?
A. Real Estate Investments
B. AI, Cryptocurrencies, and Stock Market Trends
C. Health and Wellness Stocks
Question 2: What was the significant catalyst that caused Apple's stock to increase by $71 BILLION?
A. Launch of a new product
B. Announcement of "AppleGPT"
C. Acquisition of a major tech company
D. Quarterly earnings report
Question 3: What is the cost of an Altucher's Investment Network subscription for an entire year?
A. $99
B. $199
C. $49
D. $299
Question 4: What is the purpose of the AI Catalyst Calendar provided to subscribers?
A. It lists upcoming AI conferences
B. It offers AI investment recommendations
C. It shows important AI events and catalysts
D. It predicts stock market trends
Question 5: Who is James Altucher?
A. A famous actor
B. A renowned chef
C. The founder of Altucher's Investment Network
D. A professional athlete
Answers:
B. AI, Cryptocurrencies, and Stock Market Trends
B. Announcement of "AppleGPT"
C. $49
C. It shows important AI events and catalysts
C. The founder of Altucher's Investment Network